Reading Time:
5
minutes
What Does a Virtual Receptionist Do?
Rather hear this post instead? Click the "Play" button below to hear it now.
Introduction
Virtual receptionists do a lot of things, but they specialize in creating wonderful experiences for your customers. But, how do they create great customer experiences? Let's answer that question by reviewing what virtual receptionists do every shift of every day to please customers.
Answer Calls (Full-time, Part-time, Any Time)
Every business has its own call handling requirements and preferences. Some businesses need people to answer calls 24 hours a day and some have more modest answering requirements.
Some businesses and services need back-up or part-time receptionists, and others prefer that a virtual receptionist service answer all their calls.
Whether you need part-time or 24/7 call answering, a virtual receptionist service can provide professional receptionists/agents to speak with and support your customers. In short, virtual receptionists are available to act as your company's front-line customer service team anytime you need them.
Other Essential Duties
Besides answering calls, good virtual receptionists perform many other essential duties for your business. For instance, virtual receptionists can schedule appointments, screen and transfer calls, capture sales or service leads, take messages, answer frequently asked questions, and even make outbound calls, just to name a few. So, as you can see, a virtual receptionist can perform most (but not all) of the tasks that an in-house secretary, receptionist, or administrative assistant performs.
24/7 Live Chat
The Internet has changed forever the way people communicate, shop, and do business. As a result, web-based channels, such as email, social media, and live chat, are becoming the communication methods of choice for many consumers. Out of these three, though, live chat is the most popular and the most helpful for creating great customer experiences. According to a new SuperOffice report on live chat, 46% percent of customers surveyed prefer live chat over other digital communication methods.
While live chat is still not as popular as traditional telephone customer service, it is gaining. Therefore, a virtual receptionist service that offers this important feature can benefit your business greatly. If you have a website, a virtual receptionist can greet visitors automatically, encourage them to ask questions, or answer questions they might have.
All this requires is the simple addition of a "Chat Now" or "Live Chat" button on your site and a helpful virtual receptionist on the other end of the connection to start magic-like conversations between your customer (or potential customer) and your business. And best of all, like 24/7 answering, live chat is available at any time and from anywhere.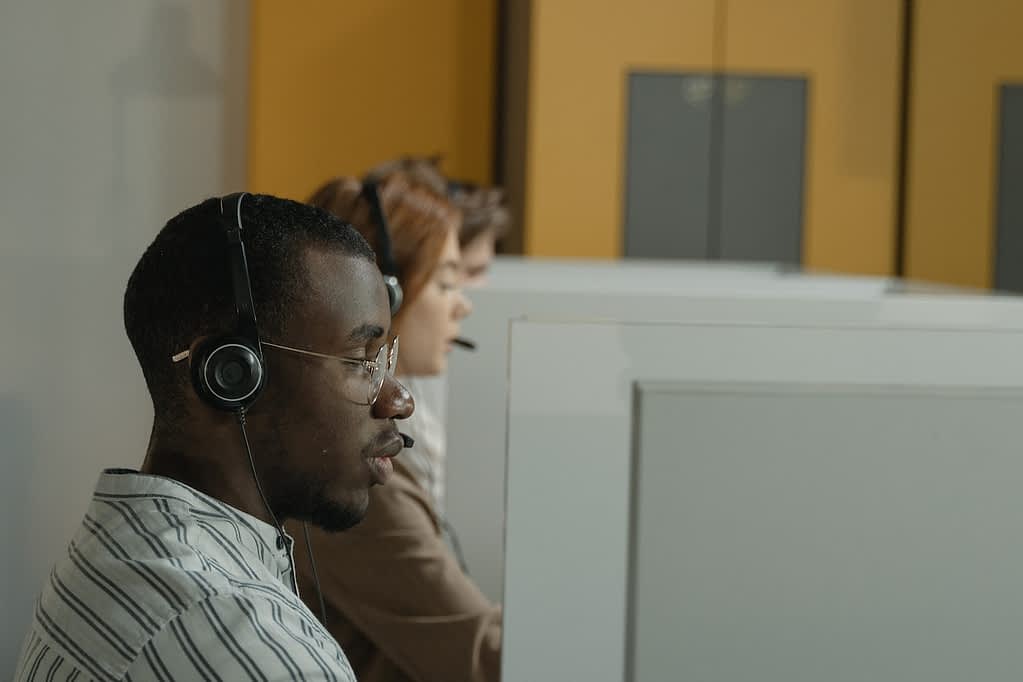 Insta Answer Virtual Receptionists
Insta Answer is a leading, global virtual receptionist provider that has been helping its partner companies thrive through exceptional customer service for over 50 years. We have been in business long enough, that we define the standards and don't just follow them.
At Insta Answer, our professional virtual receptionists are friendly problem solvers that deliver the best customer experiences – period.
On any given day, an Insta Answer virtual receptionist handles hundreds of customer interactions and provides callers with solutions and useful information. We also provide customers with accurate, concise information and details based on guidelines established by our partner clients. In this way, we help our client partners (and ourselves) grow and thrive.
Core Capabilities
At Insta Answer, we provide exceptional customer service experiences for the customers of our clients. We do this by leveraging our core capabilities, which include:
| | |
| --- | --- |
| Answering frequently asked questions | |
| | |
| | |
| | |
| | New client onboarding or intake |
| | 24/7 Live phone answering |
| Bilingual phone answering | |
While these are the core (or primary) capabilities of our virtual receptionists, we can tailor our services to best match the needs of your business.
Therefore, if your business requires certain industry knowledge or training, of if you require outbound calling services, we can create a custom solution just for you.
Please continue reading to find out how we typically handle calls and represent our partner clients' companies.
How We Represent Your Company (Overview)
Our virtual receptionists are trained to represent any of our clients' businesses seamlessly and at a moment's notice.
How do we do this? Our advanced, smart technology instantly recognizes your business based on the number called by the customer. Once a call comes in, your business information appears on the agent's screen along with relevant details and instructions for how to handle customer calls for your organization.
Some details include:
The name of your business;
Basic information about your business (i.e., business hours, office location, etc.);
Business directory (i.e., on-calls, key contacts);
Call handling instructions and other noteworthy information provided by your company.
As you can see, our virtual receptionists have all the information they need to represent your business with confidence, accuracy, and professionalism. Of course, our service also supports custom requests and agent instructions.
Excellence Through Leadership
Insta Answer also employs shift leaders, who are also virtual receptionists, but help guide and train newer hires to ensure they provide outstanding experiences for your customers.
Additionally, our service managers and dedicated trainers help ensure efficiency, high morale, and quality.
The job of a virtual receptionist has transformed over the years and continues to evolve.
Insta Answer sets the standards for virtual receptionist training that many other services try to copy. And we've been leading the charge for innovation in our industry for over 50 years.
Insta Answer – Your Partner for Great Virtual Receptionists
At Insta Answer, we have been helping businesses (just like yours) provide exceptional customer service for over 50 years. Our global network of virtual receptionists provides outstanding service and support to your customers that improves customer loyalty and retention, increases sales, and generates more word-of-mouth referrals for your business.
When you select Insta Answer as your virtual receptionist provider, you not only gain access to our talented team of virtual receptionists, you also get a partner who will work just as hard as you do to ensure that your business continues to grow and thrive.
If you would like to find out how partnering with Insta Answer can help grow your business with exceptional customer service, please click here to request a no-cost, no-obligation consultation. Alternatively, you can reach us toll-free at (877) 631 – 9711 or by email at [email protected].